40 Plus Years of Custom Molded Products
Q-Cast uses compression molding, open cast molding, injection molding and transfer molding to create a wide variety of custom molded products, including:
Rollers/Wheels

Tubes/Rods

Wear Products

Rings/Seals

Pads

Custom Parts

Grommets

Plugs

Sheet Goods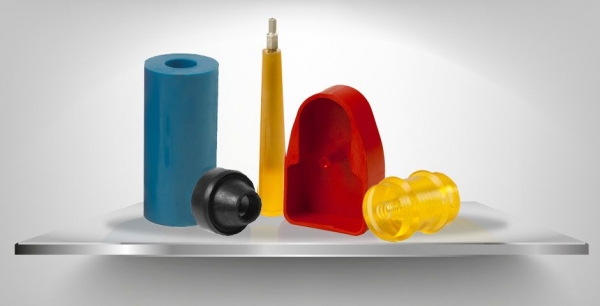 Rollers/Wheels

Q-Cast is able to manufacture rollers and wheels onto steel, aluminum or plastic hubs in nearly any size.
Tubes/Rods

We are able to manufacture tubes, rods and billets in a variety of lengths, sizes and colors – including those with dual durometer.
Wear Products
We use a diverse blend of materials to create wear products that outperform expectations.
Rings/Seals
Q-Cast manufactures wear rings, U-cups, oil seals and more to custom size specs or cast for finish machining.
Pads
We use urethane, rubber and silicone to mold lifter, gripper and puller pads onto a variety of different bracket plate styles.
Custom Parts
We can take your product design and help you create the ideal urethane, rubber or silicone part or product.
Grommets
Q-Cast manufactures urethane, rubber and silicone grommets with outstanding integrity to ensure they meet your various sealing needs.
Plugs
We produce urethane, rubber and silicone plugs that come in myriad shapes and sizes.
Sheet Goods
We manufacture custom sheets of various material thickness and durometer of urethane.
If you'd like to learn more about the Q-Cast story or any of our capabilities,
call us today at (724) 728-7440.